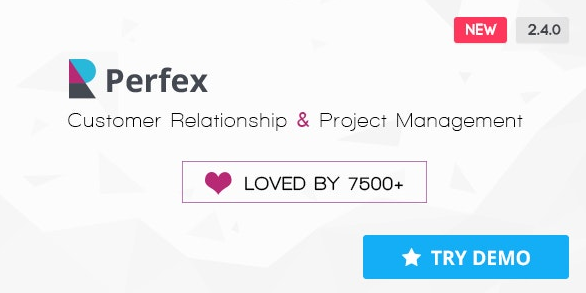 源码简介
Perfex CRM是完整的客户关系管理软件,非常适合几乎所有公司,自由职业者或许多其他用途。 凭借其干净和现代的设计,Perfex CRM可以帮助您更专业地为您的客户提供服务,同时帮助您提高业务绩效。
官方介绍
https://codecanyon.net/item/perfex-powerful-open-source-crm/14013737
在线演示
https://www.perfexcrm.com/demo/admin/authentication
Admin:
http://www.perfexcrm.com/demo/admin/
Email: admin@test.com
Password: 123123
Staff 1:
http://www.perfexcrm.com/demo/admin/
Email: staff1@test.com
Password: 123123
Client: http://www.perfexcrm.com/demo/
Email: client@test.com
Password: 123123
功能特点
使用功能强大的项目管理功能管理和发票项目。
将任务链接到许多Perfex CRM功能并保持井井有条。
建立专业,美观的估计和发票。
强大的支持系统,能够自动导入门票。
跟踪花在任务上的时间并向客户收费。 能够为每个分配的员工分配多个工作人员的任务和跟踪计时器。
即使员工不是项目成员,也要添加任务关注者。 工作人员将能够在不访问项目的情况下跟踪任务进度。
在一个地方跟踪线索并轻松跟踪他们的进度。 能够自动从电子邮件导入潜在客户,添加备注,创建投标。 通过拖放轻松组织您的潜在客户并轻松更改各个阶段。
为潜在客户或客户创建好看的提案并增加销售额。
记录您的公司/项目费用,并能够向您的客户开账单并自动转换为发票。
通过强大的CRM了解有关客户的更多信息。
通过内置调查提高客户保留率。
使用目标跟踪功能可以牢记销售目标。
为您的员工和客户创建公告。
使用合同功能锁定当前和未来的销售。
自定义字段可以为客户,潜在客户等存储额外信息。
从Paypal和Stripe以不同货币接收付款。
大量可配置选项。
通过强大的主题样式功能,将CRM定制为您的公司品牌。
分隔的媒体文件夹,供非管理员工在CRM内部工作,并组织他们的上传和文件。
根据员工权限为每位员工制作精美的日历。
跟进,报告,备注,文件和更多功能。
系统需求
PHP 5.6+ (PHP 7.1+ recommended)
MySQL 5.1+
mod_rewrite Apache
MySQLi PHP Extension
PDO PHP Extension
cURL PHP Extension
OpenSSL PHP Extension
MBString PHP Extension
iconv PHP Extension
IMAP PHP Extension – not recomended godaddy as email provider
GD PHP Extension
Zip PHP Extension
allow_url_fopen enabled
或者可以直接下载环境测试文件
更新日志
Version 2.4.0 September 11, 2019
Added Greek language.
Added Slovak language.
Added ability primary contact with no subscriptions to delete the stored Stripe card.
Added 2 new subscription statuses Incomplete and Incomplete Expired.
Added ability to add custom subscription terms and conditions.
Updated Stripe Ideal Implementation.
Updated Pusher to version 5 for more faster requests.
Fully refactored Stripe Checkout to comply with the new SCA European rules.
Fully refactored Stripe Subscriptions to comply with the new SCA European rules.
Updated customers area credit card update and subscriptions section to comply with the new SCA European rules.
Updated subscription taxes to be fetched from Stripe instead of Perfex CRM
Added new email template for subscriptions when customers will need to authenticate/confirm the credit card impacted by SCA.
Moved reCaptcha on admin area login above remember me checkbox.
Stripe Checkout and Stripe ideal have a feature to automatically create the necessary webhooks via Perfex CRM in the Stripe dashboard.
User will be able to delete subscriptions created in test mode from Perfex CRM.
Updated: When paying regular invoices and the customer does not have any subscriptions, the credit card token won't be longer re-used to pay for future invoices.
Updated: Stripe webhooks will listen only to the events that are needed instead of all events.
Fixed select color is white when buttons CSS applied.
Fixed issue with select fields on RTL.
Fixed leads staff "lost" report not correct.
Fixed ticket without contact fields not validated.
Fixed web to lead form validation language not correct.
Fixed multi-select field on the web to lead form not working.
Fixed lead custom merge fields not replaced in an email template.
Fixed task due date not respecting project due date on edit.
下载地址
国内下载
链接: https://pan.baidu.com/s/1FB2OaA-DLLCK-2rYZslO-g 提取码: 4adf
国外下载
https://yadi.sk/d/fGsRmprQxZ6_Ig
官方提示
本次升级更新内容比较多,官方还给了一个提示
关于使用自用客户区域主题的说明
如果使用了自己的模板,需要升级以下文件:
application/views/themes/perfex/views/subscriptions.php
application/views/themes/perfex/views/credit_card.php
application/views/themes/perfex/views/subscriptionhtml.php
上面提到的文件与Stripe SCA兼容,如果您有自己的文件或正在覆盖这些文件,请确保重新检查它们并根据您的要求进行更新,因为您的Stripe集成无法工作。