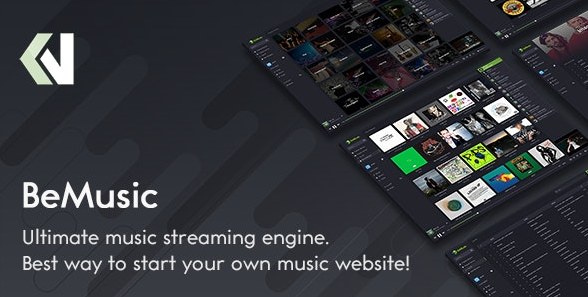 源码简介
BeMusic可以让您在几分钟内创建自己的音乐流媒体网站,无需编码知识。 程序有着丰富的功能,可以本地存储、调用youtube内容。
这个程序是youtubify的升级版,换了个名字,和BeDrive的是一个人了。
在线演示
官方前台演示
https://bemusic.vebto.com/
后台演示
https://bemusic.vebto.com/admin/analytics
系统特点
易于安装
外观编辑器
自动化
播放列表
背景播放器
艺术家管理
专辑管理
曲目管理
页面管理
响应式设计
多语言可翻译
用户系统
广告管理等功能
系统需求
PHP 版本大于等于 5.6
OpenSSL 扩展启用
PDO 扩展启用
php_fileinfo 扩展启用
MySQL, Postgres, SQLite 或 SQL 数据库.
更新日志
2019 March 03 - Version 2.3.6
New Features
Meta tags will now be visible on regular site, not just for crawlers and bots.
Added recaptcha support for "registration" and "contact us" pages.
Added new, easier to use installer.
Added icon selector for "admin > appearance > menus" page.
Added "Contact Us" page.
Enhancements
SEO editor now has a more powerful placeholder system which allows usage of all data that will be available for a particular resource.
Google "mobile friendly" tests should now fully pass.
Browser page title will now reflect title specified via "admin > appearance > seo" page.
Currently playing song name will now be shown as page title in browser.
Menu manager "route" type items now support query parameters.
External links added via menu manager will now open in new browser tab.
SEO editor will now use "textarea" to make editing easier.
Google analytics .p12 file can now be uploaded from settings page.
Settings page will now validate most newly entered settings.
Bug Fixes
Menu item reordering via drag and drop should now work properly in menu manager.
Current color will now be selected when color picker is opened in "admin > appearance > colors" page.
Tracks and videos longer then one hour will now properly show their duration.
Ad codes with single double quotes should now work properly.
Trying to create album without selecting artist will now properly show error message.
Icons on search page input will now be properly aligned on mobile.
Track page will now look properly on mobile.
Fixed an issue with "remastered" tracks not having lyrics sometimes.
下载地址
百度网盘
链接: https://pan.baidu.com/s/1uGmxYrck5epMceqpHxhEmg 提取码: qp5y
yandex网盘
https://yadi.sk/d/vt7H3Bc_EcHdmQ
安装方法
1、将解压后的bemusic-v2.3.6bemusic下内容上传到服务器
2、将网站运行目录设置为public
3、建立数据库
4、打开网站yourdomain.tld
5、根据提示输入数据库信息
6、设置登录用户名和密码
7、使用刚才的邮箱和密码进行登录